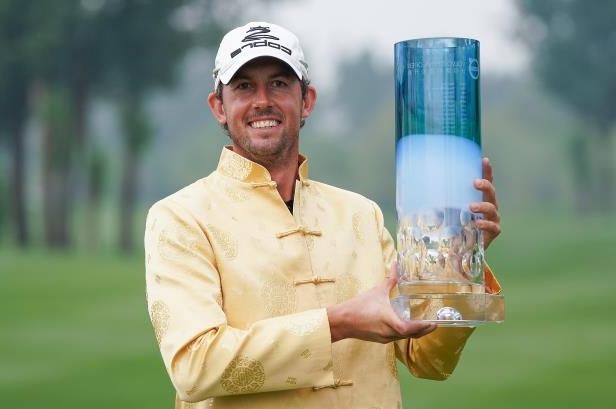 Interview before 2019-2020 season
1. What are your hopes and goals for 2020?
To come back even better than 2018. To win more tournaments on the European Tour. To play more Majors and perform well in them.
2. Are you looking forward to a new season?
Yes, very much. 2019 was not a good year for me as the swing felt out of rhythm and my neck was hurting. I had to change parts of my swing, not to burden the neck.
3. What needs to get better in the 2020 season?
The swing definitely and I spend many hours practicing to improve it. Also my physique can get better and I plan to spend more hours in the gym and outside jogging.
4. How much do you work out besides playing golf?
In the pre-season and in-between tournaments, I work out 4-5 times per week. On a tournament week it depends on the facilities available and how I am feeling. At least 1-2 sessions. I plan to increase the number of training sessions while I´m on tournaments.
5. Do you want to play many tournaments in 2020?
Yes, I will play more tournaments in 2020. Between 25-30.
6. How many weeks on a year are you away from home?
Every tournament I´m away about a week so it will be 25-30 weeks in 2020. Sometimes I play four tournaments in a row and sometimes it's only one week until I get some time at home. l try to make a schedule I think will optimize my chances for good results. Rest is also an important part in the schedule.
7. Which tournament is your favorite?
The tour final in Dubai. It's a great course and a special atmosphere out there.
8. Do you have someone who you look up to on tour or who impresses you?
Rory McIlroy. His drives are very impressing. He has a great stroke and he hits both far and straight.
9. Which is your best stroke?
Over the years it has been my irons, maybe the 7:iron. 2018 I was pointed out best in the world with my irons, which was very fun.
10. How far do you hit with your driver?
Around 250 meter carry.
11. Which is your favorite golf club?
My spoon.
12. Do you get monetary support from the Swedish Golf federation or salary from the tour?
No. You get prize money if you perform well. That comes from the tournament sponsors. It's 100 % provision based.
13. So how much does it cost you to pay for a tournament?
A week's tournament cost somewhere between 4 000 – 7 000 euros, depending on where I play. I pay for travelling, accommodation, food, caddie, golf coach and management.
14. Does your management team take care of everything for you?
Yes if I want to, but some parts like flights and accomodation I mostly do myself because I like to do it.
15. Is it glamorous to be a golf professional?
No, most of the times it's not. You have to focus and can't relax or go sightseeing while on tour. It's many long hours on flights, many nights in new hotels and lots of pressure. I have to eat, sleep and train well to perform on a high level.
16. So, what's the best and the worst part about being a golf professional?
The best is that I can play many fun tournaments and do what I love. I also get to see and experience many new places. It's quite flexible as I can plan my own schedule. The worst is all the traveling, the airports and the hotels.
17. What is your advice for someone who wants to become a golf professional?
Practice a lot and play many tournaments. You learn something from every tournament.
18. Who is your golf coach?
Graham Crisp
19. When did you start to play golf?
Age 6.
20. Did you play other sports as well or was it always golf you know you wanted to focus on?
No, I practiced many sports. I played soccer, tennis, hockey. When I was younger I also did gymnastics and as I got older I played bandy during the winter season. If I hadn't chosen golf, maybe I had tried to become a professional soccer- or tennis player.
21. When did you know you wanted to focus on golf?
Maybe when I was 14.15 years old.
22. Which is your home club?
Växjö GK, but I practice mostly at Sand Golf Club just outside Jonkoping.
23. Why did you become one of the pro players in Sweden, while there were so many other talented kids?
I was one of them who practiced the most but I also think I had talent for it. My hard work payed off, maybe I practiced effectively. I also had great help from my coach as a youth Calle Gustavsson, and later also from Petter Olofsson. They gave me the prerequisites I have since being able to build upon. I also have very supportive parents who spend the summers traveling with me and made sure I was able to go for my dreams.
24. When did you become a golf professional and weren't you afraid you might not succeed?
When I was 18. It was more fun to be a professional and try to do it for a living. I was very young and didn't have too much pressure on myself. I played on the Swedish and Danish Golf tour and the Nordic League, before moving up to the Challenge Tour.
25. Did you get an offer to play college golf?
I got a few emails from coaches, but I just wasn't that interested. I thought that four years in the US as an amateur was going be a too long time for me. I thought the pressure would be bigger when turning pro after college. Instead I saw my early pro days as a good way to practice on the pressure to perform.
26. Which tournament do you dream of playing?
The Masters at Augusta.
27. Do you think it's a big diffence to play a major compared to regular tournaments?
It's a lot more people before the tournament starts and also during the tournament. You have to plan your preparations better to be able to get around smoothly. It's more of a big "event" and I really enjoy playing them.
28. Do you want to play on the PGA Tour and how can it be possible?
I would like to play on both ET and PGA. If I can be top 50 in the world I will be able to play tournaments on the PGA tour. If I perform well in them, I can qualify for a full PGA tour card.
29. Can it get lonely on tour and how do you spend time with?
Yes, sometimes. If my family is there I spend time with them and if not, I hang out with the other swedes, especially Jens Dantorp is a good friend of mine.
30. Is it mandatory to have a caddie on tour?
Yes. If you don't have your own, you can hire a local caddie for the week.
31. Do you have any obligations while on tour?
Yes, I play Pro-Am in most tournaments. It's the day before and I am playing the course together with the sponsors of the tournaments. The better you perform, the more Pro-Am you are elected to participate in. You also need to attend sponsor activities and the better you are, the more you are expected to do, as the sponsors want to be around the best players.
32. Do you sign many autographs?
Yes. After practice rounds and tournaments rounds. Many local kids want me to sign their hat or t-shirt.
33. How did it feel to win on the European tour?
Amazing. Best golf experience so far.
34. Do you have fans from other countries?
Yes. Some follow my results and comment and support me online or in person. It's very fun and always appreciated!
35. Which is your best experience while on tour?
When we went on Safari in South Africa, and drove into the Kruger Park.
36. Have you changed your living habits since you moved on to the European Tour?
Not really. I am still the same person and enjoy the same things as before, like fishing or playing tennis.
37. What do you like to do on your time off?
Spend time with friends and family. Going out with our little boat, fishing is one of my favorite things to do. I also enjoy skiing.
38. Do you have a dream that is not about golf?
Maybe a house by a lake where I can fish. It would be fun to build our own family house in the future.
39. If you hadn't been a golf professional, what would you be doing?
I don't know. Probably study something at the university, but I don't know what.
40. What is your favorite movie?
James Bond.
41. What is your favorite food?
A good homemade burger.
42. Do you like to cook?
Yes, I enjoy it and find it relaxing.
43. Do you have a dream destination where you have not been?
The Maldives.
44. Which is your favorite holiday?
I have always liked Christmas as family is very important to me and I wish everyone a happy holiday coming up soon!